Remains of the old EBGS cemetery Maria's Rust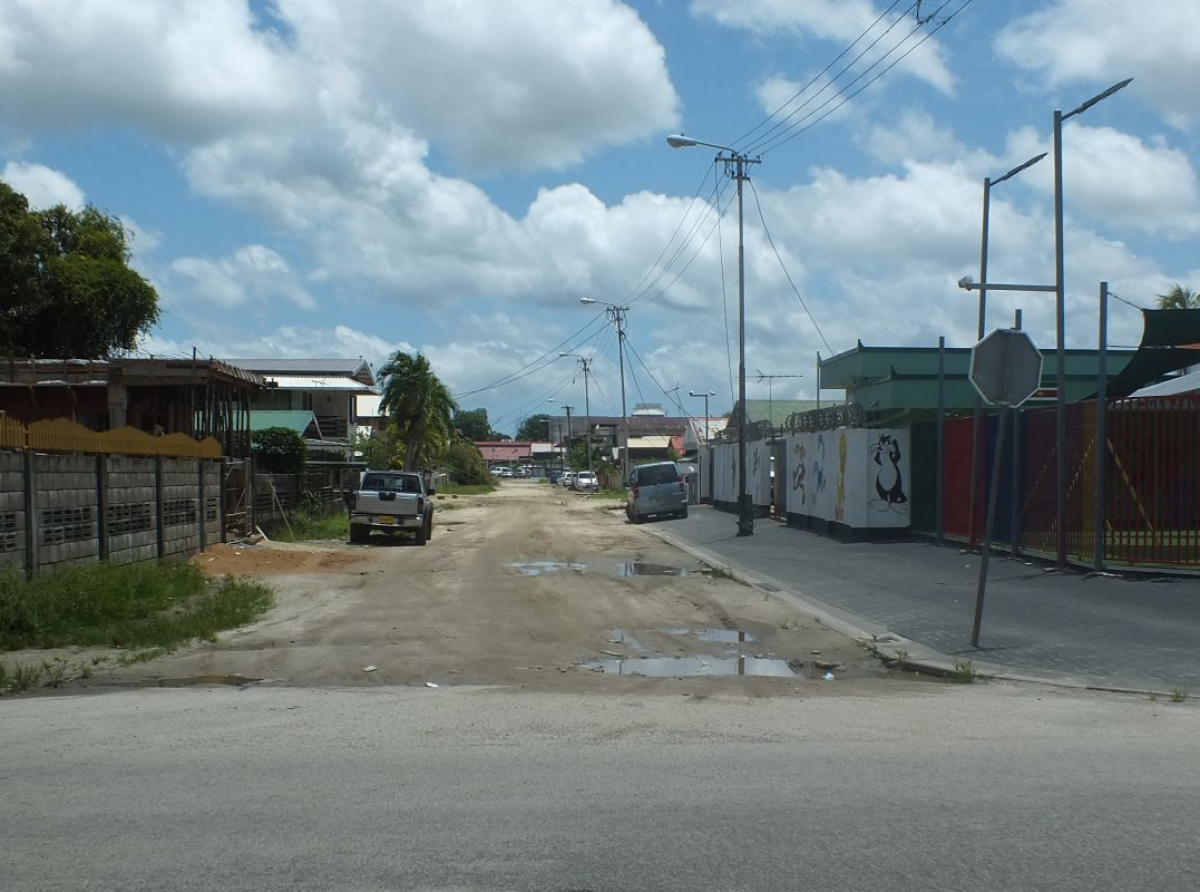 Articles:

Maria's Rust
A few years ago, the historian Mildred Caprino drew the attention of the Suriname Built Heritage Foundation (SGES) to the fact that a tombstone can be found on a plot on the Beter Wonenstraat in Frimangron. Recently we finally went there, where a tombstone was indeed found on an undeveloped lot. The neighbors explained to us that there were actually two tombstones next to each other, one small and one large. However, we only found one, even after an inspection of the site was carried out. The tombstone turned out to be no longer in its original place, as it had been placed on a concrete slab.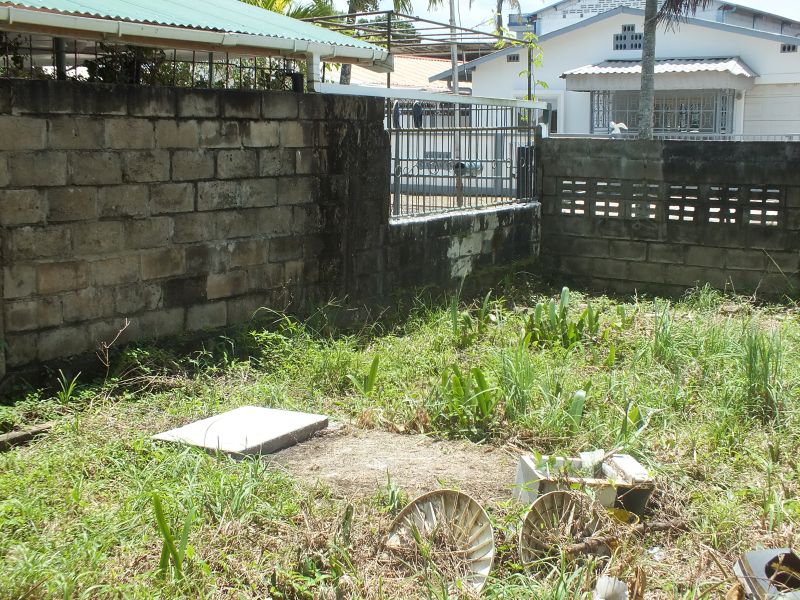 Overview location (photo Stephen Fokké, 2021)Our research has shown that the Beter Wonenstraat was built on an old cemetery of the Moravian Church of Suriname (EBGS). This cemetery, called "Maria's Rust", was the oldest of the historic city cemeteries of the EBGS. The others were "Christina's Rust" (1879-1892), "Leopoldsrust" (1895-1913, later partly cleared in 1954) and the small Gottesacker behind the Grote Stadskerk. Behind the Saronkerk there is another EBGS cemetery that dates from ca. 1900.
Maria's Rust (not to be confused with the other EBGS cemetery "Marius Rust") was inaugurated in 1779 and closed in 1892. The cemetery was originally enclosed by the old Nepveustraat (now Afi Jabastraat), the Pontenwerfstraat (now the Anton de Komstraat), the Rust en Vredestraat, the street along the Drambrandersgracht and a small part of the new Dominéstraat. In a piece submitted from the paper Banier van Waarheid en Recht of September 21, 1935, the author relates that "(…) amid the whitewashed streets of the city, a veritable oasis is that graveyard with its old, heavy mahogany trees".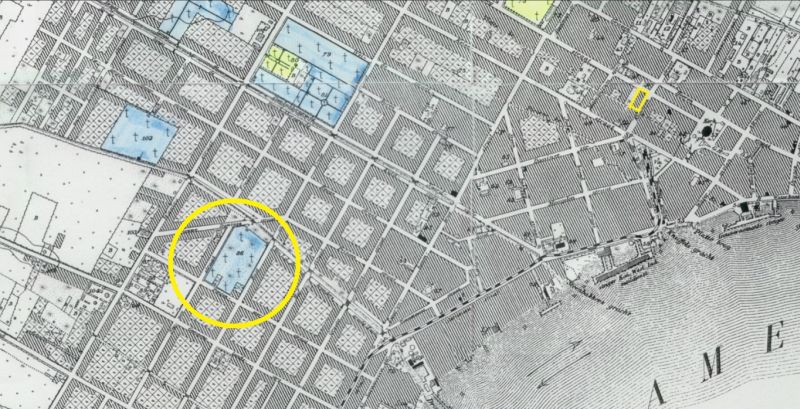 Map Spirlet 1916-1917
Around 1945, the housing association "Beter Wonen" started a housing project on the cleared cemetery. The project involved "the construction of 33 stone houses, all with free yard". The Beter Wonenstraat, named after the housing association of the same name, was in fact the central aisle, which divided the old cemetery into two halves.
The tombstone found this morning belongs to a German missionary named Johann Gottlob Buchner, aged 73. His epitaph reads:
HIER RUHEN DIE GEBEINE/DES SELIGEN BRUDERS/JOHANN GOTTLOB BUCHNER/GEBOREN DEN … NOVEMBER/Ao [Anno] 1745/ZU DEUTSCH OSSIG/IN DER OBERLAUSITZ/ENT SCHLIEF DEN 23 JULI/Ao [Anno] 1818/ZU PARAMARIBO/DIENTE BEY DER BRUDER MISSION/UNTER DEN NEGERN IN SURINAM/IN SEGEN 34 JAARE.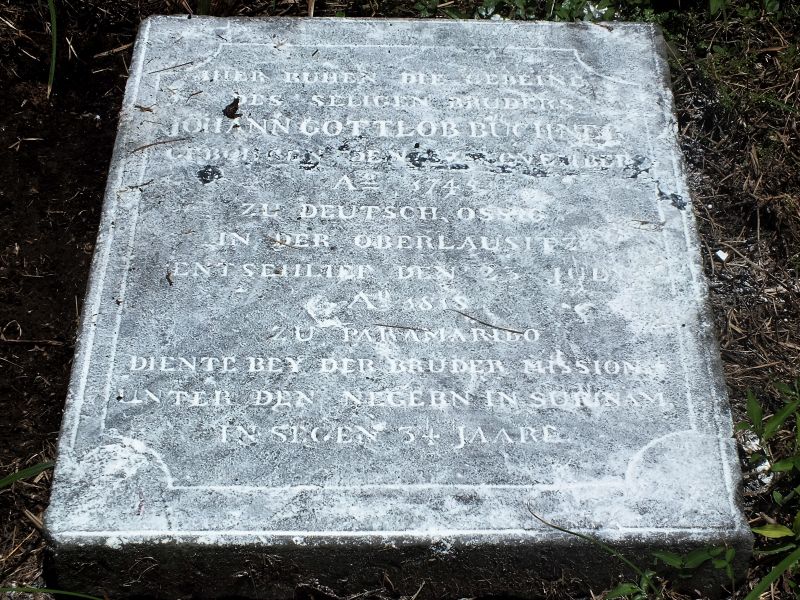 Slab for Johann Gottlob Buchner (photo Stephen Fokké, 2021)
Loosely translated:
Here rests the bones (body)/of the blessed brother/Johann Gottlob Buchner/born on … November/anno 1745/in German Ossig/in Oberlausitz/died 23rd July/anno 1818/in Paramaribo/in the service of the Moravian Church under the negroes (slaves) in Suriname, during 34 blessed years.
Thanks to Mildred Caprino for the tip and Johan Roozer for the joint inspection.
---