Articles:

Albany Rural Cemetery
It seems unlikely that the 400-acre Rural Cemetery in Albany has anything to do with the Dutch who founded a fort here in the early seventeenth century. The cemetery is located far north of the city and was only founded in 1841. About four cemeteries preceded this cemetery, all of which have since disappeared. For Americans who are used to cemeteries having an eternal life, that fact takes some getting used to. Nevertheless, from some of those old cemeteries, where older grave monuments had Dutch texts, some markers have been preserved.
Where once the first Dutch buried their dead in fort Oranje (USA-001), there is now a bus station. The island on which the fort was located is no longer an island and surrounded by the city. Albany got a church with cemetery (USA-011) in 1656, located a little higher and further from the Hudson. When this location could no longer be used, a second cemetery (USA-037) was founded around 1770 a bit further on, where other denominations were also given a place to lay their dead to rest. Less than twenty years later, in 1790, this new cemetery was no longer sufficient and a larger cemetery (USA-039) was set up near Washington Square. This cemetery had al large part that belonged to the Reformed Dutch church. Stones from the earlier cemetery were transferred to this cemetery around that time. However, there were major problems with the location, because several streams that ran across the cemetery regularly flooded the location with all the consequences that entails.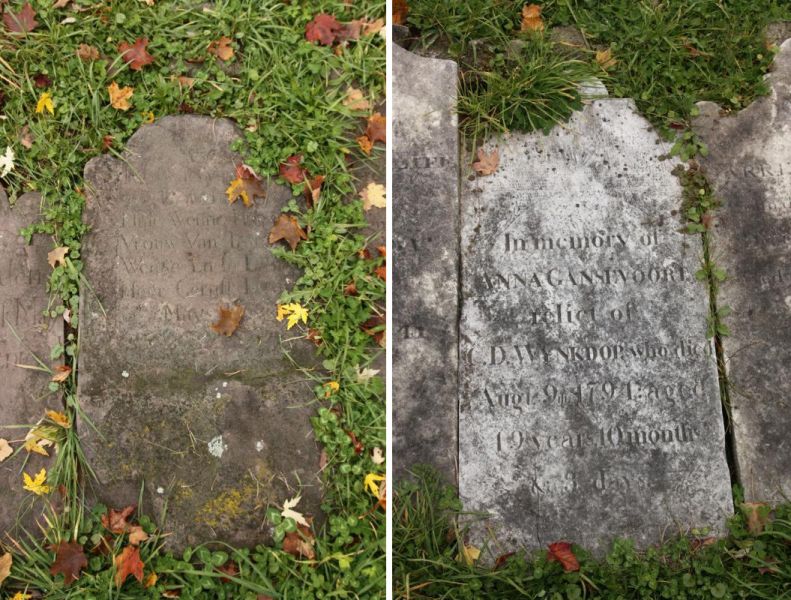 Examples of stones from older cemeteries
The opening of the Rural Cemetery (USA-042) in 1841 brought relief and in 1868 graves from the old cemetery, including those from earlier cemeteries, were transferred to the Rural Cemetery. As many as 4,000 remains were transferred. Reburial took place on grave section 49. There the tombstones were laid flat on the graves. At the site of Albany's third cemetery, the State Capitol appeared in 1899. Remains that were found during construction work here and there in Albany were also buried at the Rural Cemetery. Hence, it is possible that at this cemetery gravestones with Dutch texts can be found that date back to the early eighteenth century.
Nothing has survived of the first cemetery in the fort.
Internet:
---