Guido Hermann Fridolin Verbeek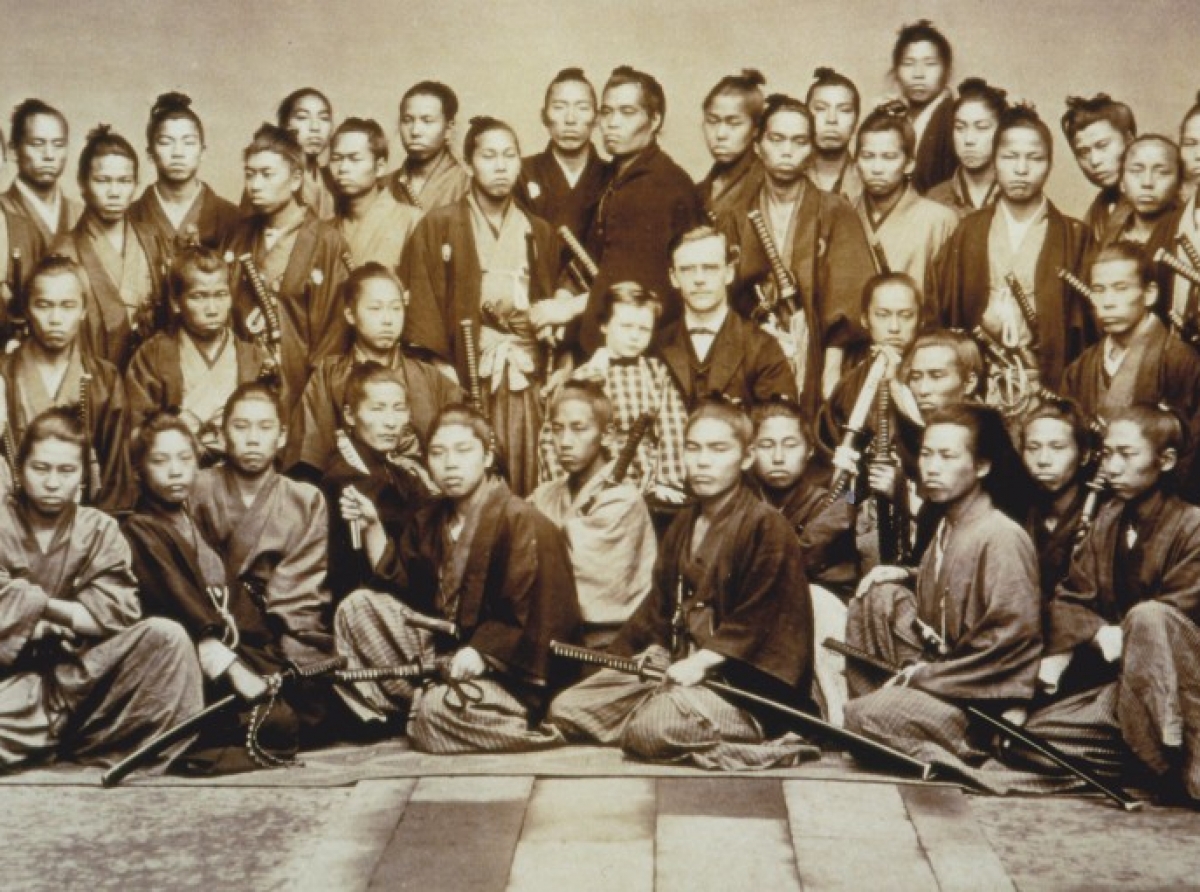 Articles:

Verbeek's grave
In 2003, Ms Hisayo Murase published the book 'Verbeck of Japan'. The book is a translation in Japanese of the biography of Guido Hermann Fridolin Verbeek written by W.E. Griffis in 1901 and provided with annotations.
In 2012, again in Japan, a second book on Verbeek's life was published, entitled: 'Guido F. Verbeck. A life of determined acceptance.' from Ms Noriko Itoh. Verbeck is an Anglicization of the family name Verbeek. The Dutchman Verbeek made a great contribution to the development of Japan in the nineteenth century. Besides composer Willem Pijper and poet Hendrik Marsman, he may be considered one of the greatest sons of Zeist. Despite this his name is unknown in Zeist and nothing reminds of him in his home village.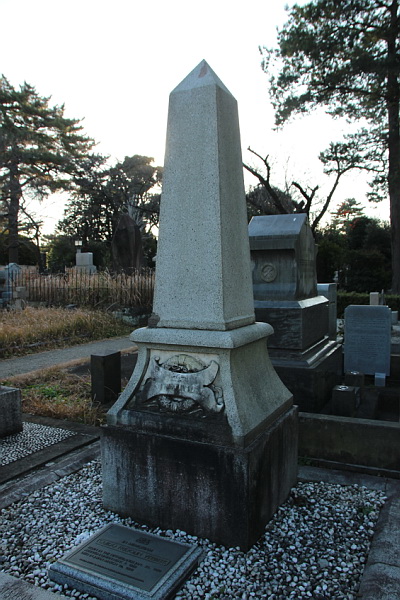 Grave of Verbeek at the Aoyama cemetery (photo Leon Bok)
The Verbeek-Kelderman family
Guido Hermann Fridolin Verbeek was born in Zeist on 23 January 1830 on the estate 'De grote Koppel'. His birthplace was demolished in 1866 and now only the name of the Grote Koppel residential center still reminds of this house. His father, C.H.W. Verbeek (1797-1864), was mayor of Rijsenburg, a small village near Zeist. His mother, M.J.A. Verbeek-Kellerman (1791-1852), was the daughter of the bailiff of Zeist and lived before her wedding in a side wing of Slot Zeist. The Verbeek-Kelderman couple had eight children. Guido was their sixth child. In 1849 Guido Verbeek was given the following description: length 1.74 m, oval face, wide forehead, ordinary nose, ordinary mouth, pointed chin, blond hair, blonde eyebrows. As a young boy he attended the school of the Unity of the Brethren or Moravian Church as it is commonly known. After school, he learned the trade of ironsmith.
Emigration to America
In 1852 he emigrated to the United States of America. A brother and two sisters had already emigrated to America and in 1864 another sister followed. Upon his arrival, he settled in Wisconsin. In 1853 he moved to Arkansas, but within a year he returned to Wisconsin. Between 1852-1856 he worked – with a short break – at the Howard Foundry in Fort Howard. There he worked his way up from metalworker to supervisor. From 1856 to 1859 he studied theology at the Auburn Theological Seminary in New York. On April 18, 1859, he married the Irish Maria Manion (1840-1911) in Philadelphia. Eleven children were born from this marriage, three of whom died at a very young age.
As a missionary to Japan
A few weeks after his marriage, he left for Japan as a missionary of the Dutch Reformed Church of America. In Japan, Verbeek's name was pronounced Furubekki. His wife followed him at the end of that year. In the Netherlands Verbeek was registered as Lutheran. He was one of the first missionaries to be admitted to Japan. The fact that Verbeek was sent to Japan had to do with the fact that he was Dutch. The Netherlands was the only European country to have relations with Japan from 1640 to 1854. The Dutch factorij was located on the island of Dejima in the Bay of Nagasaki. In 1854, Japan was forced to open its borders to foreign states. In Japan, admitting foreigners caused a lot of unrest. In an attempt to get a reprieve, in 1862 a Japanese envoy made a European trip. On that trip, a visit was made to the Netherlands and Utrecht was part of the voyage. That city was visited from 15 to 17 July.
Until 1869 Verbeek lived mainly in Nagasaki. His daughter Emma Japonica was born there in 1860, but she died after a few days and was buried in the 'Hollandsche Begraafplaats' in Nagasaki. She may be the first child born in Japan to Western parents. As a missionary, Verbeek was very happy when he baptized two brothers in Nagasaki in 1866. In 1869 he settled in Tokyo, the capital of Japan since 1868. In Nagasaki he worked in an interpreting school. He spoke Dutch, German, French, English and Japanese. He made a great contribution to the translation of the Bible into Japanese. He also translated the Code Napoleon, the civil code. In Tokyo he was one of the founders and president of the University of Tokyo, the later Imperial University. Several of his students later held posts in the government. He was also an adviser to the Japanese imperial government. When the government had to make a choice between English or German medicine, on his advice two German doctors were invited to teach medicine in Japan. Since then, many Japanese doctors have acquired a world name.
Verbeek was awarded for his meritorious work. The University of Rutgers in New Brunswick (New Jersey, USA) awarded him a Doctorate in Theology in 1875 and in 1877 he was awarded the Japanese Order of the Rising Sun. There were several privileges attached to this order. Verbeek visited his home village at least twice more. The first time was in July 1873 and in 1890 he visited Zeist again. The second time in the company of his two daughters. In the Moravian Church, he gave a lecture on missionary work in Japan.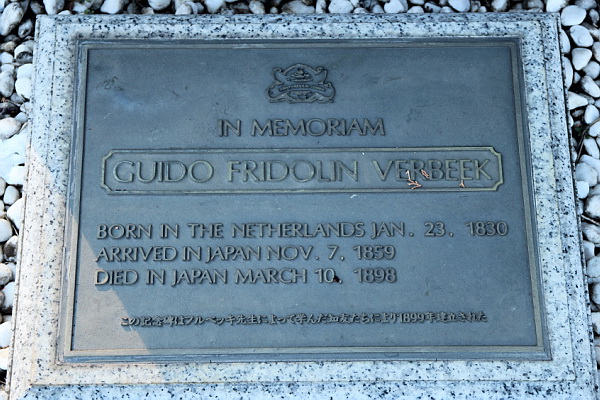 Memorial plate (photo Leon Bok, 2016)
He died on March 9, 1898, in Tokyo, where he was buried with imperial honors. His grave is located at the local Aoyama cemetery. The news of his death did not reach Zeist until five months later.
---