Nagapattinam - Old Cemetery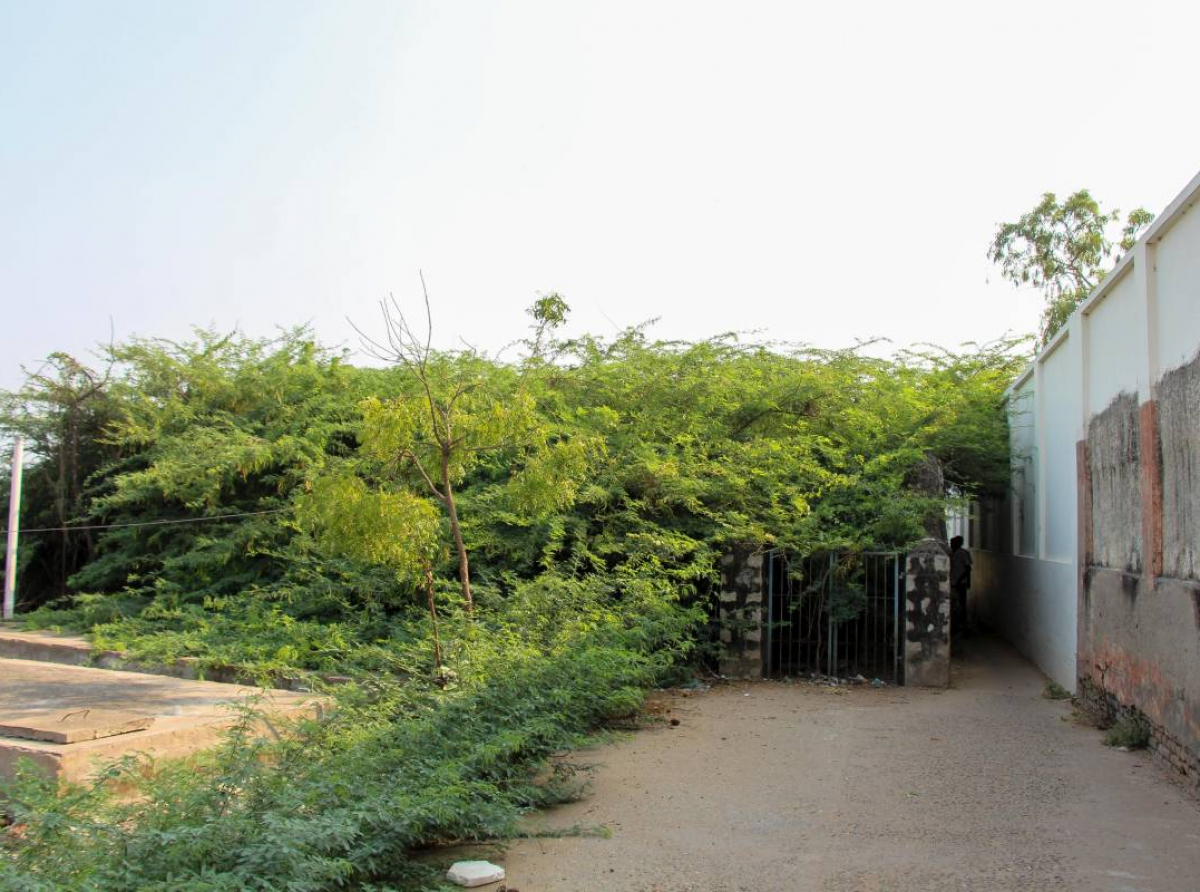 Articles:

Old Cemetery Nagapattinam
In 1658 the VOC captured the Portuguese fort at Nagapattinam. In addition to textiles, the VOC traded in Nagapattinam also in elephants, which were caught in Ceylon and sold here to Indian rulers. However, the fort was large and therefore too expensive to maintain. After it was decided in 1687 to move the Coromandel headquarters from Pulicat to Nagapattinam, construction began on a new and smaller fortress, the "Vijf Sinnen". Remnants of the houses and walls that had been destroyed in a great tidal wave in 1680 were used for the construction. In 1781 Nagapattinam was captured by the British and the Dutch trade went back to Pulicat. Nagapattinam would then remain in British possession.
The Old Cemetery
At first, the Dutch probably used an existing Portuguese cemetery to bury their dead, but soon, around 1665, a new cemetery was built, more inland. Hardly anything remains of the old cemetery, located almost directly on the water. Four slabs are bricked into the wall of a former nineteenth-century British salt factory and a fifth slab on a large tomb. Repairs may have been carried out after the 2004 Tsunami, which severely hit Nagapattinam.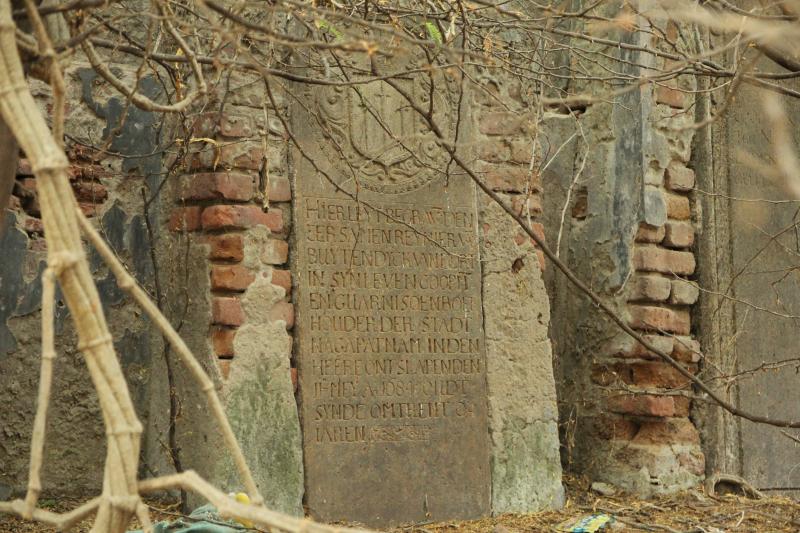 Slabs, embedded in the wall of a former salt factory (photo Leon Bok, May 2017)
The construction of the new cemetery was probably prompted by flooding of the existing cemetery. A number of graves from the old cemetery have been transferred to the new cemetery, as inscriptions on the tombstones testify.
The oldest grave monument on the old cemetery is for Cornelis Claesen, who died in 1667. Several years after the construction of the new cemetery. The youngest monument is a tomb with slab for Jan Corte, who died in 1698. Remarkably, his son was buried with him in 1770. The tomb has a shape that is not used elsewhere by the Dutch, which raises the question whether the tomb is original.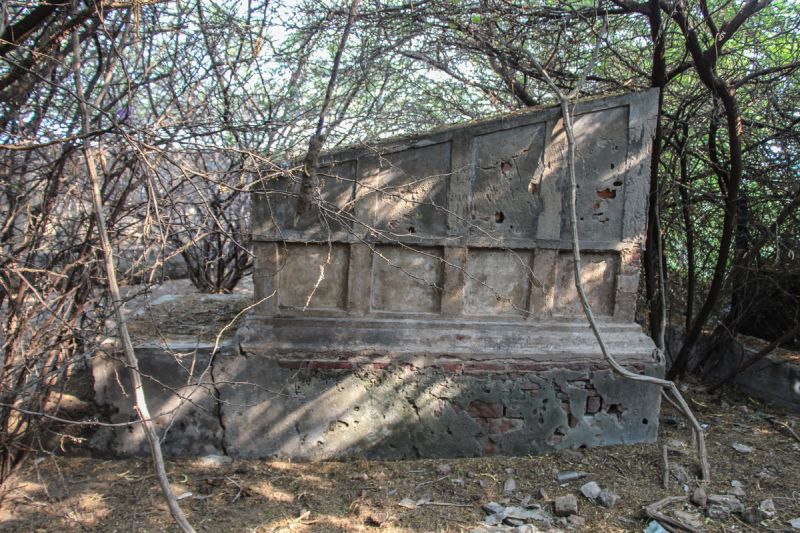 Tomb at the old cemetery (photo René ten Dam, May 2017)
Literature
Bauke van der Pol, De VOC in India – Een reis lang Nederlands erfgoed in Gujarat, Malabar, Coromandel en Bengalen. Zutphen, 2011. / The Dutch East India Company in India – A heritage tour through Gujarat, Malabar, Coromandel and Bengal. 2014.
Martin Krieger, European Cemeteries in South India – Seventeenth to Nineteenth Centuries. Delhi, 2013.
Marion Peters, In steen geschreven – Leven en sterven van VOC-dienaren op de kust van Coromandel in India. Amsterdam, 2002.
Reference: SC-IND-014
---