Articles:

Istanbul - Feriköy Protestan Mezarlığı
The two cemeteries founded by Dutch traders in Turkey are strongly linked to families like De Hochepied, Leidstar and Van Lennep. They not only represented the Netherlands but also did good business with their trading houses. They intermarried and were buried in the Dutch cemeteries in Smyrna or Istanbul. It is not surprising that after a few centuries the families were more internationally oriented than they were Dutch.
The Van Lennep family lost its monopoly position in Smyrna in the nineteenth century. Poor management brought the company to the brink of ruin. A new trading house was set up and soon things were running as usual. Some family members sought their fortune in America. Looking at the texts on their tombstones and upon other forms of communication, the family members were no longer used to speak Dutch. They spoke Greek, French and a little English. Although the Van Lenneps were heavily focused on Smyrna, where the family owned a large farm, some family members were also buried in Istanbul. Berthe Mathilde Eleonore, born in1881 as the eldest daughter of Alfred Edouard van Lennep (1852-1906) found her last resting place in Feriköy in Istanbul in 1903. Her father was an inspector of tobacco control in Saloniki and Constantinople and a man held high in regards in the Ottoman Empire. Little is known about Berthe, but her family left her one of the most beautiful grave monuments in the Dutch part of the cemetery.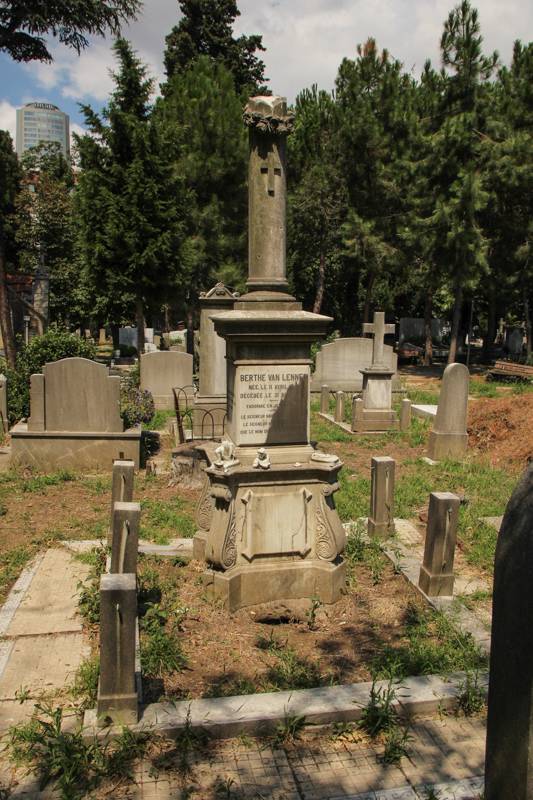 Monument Berthe van Lennep
Berthe's short life is reflected in the broken column, which is placed high on a pedestal, which in itself stands on a beautifully decorated basement. Around the monument is a square with poles between which chains should hang. Those chains have disappeared like most of the porcelain figurines that were placed on the corners of the basement. On the front of the pedestal there is a text for Berthe in French. On the left and right are also texts in French, such as: 'celle que nous ne pouvons plus voir, est plus que jamais avec nous' (the one we can no longer see is more than ever with us) and 'ton souvenir est plein de douceur ta memoire restera comme un parfum' (your souvenir is full of sweetness, your memory lingers like a perfume). Cross and wreath on the column indicate in a faith that 'after-life is a victory over death.
[History of the cemetery][More information on the Dutch monuments]


---