Plantation Bellevue - Monuments plantation owners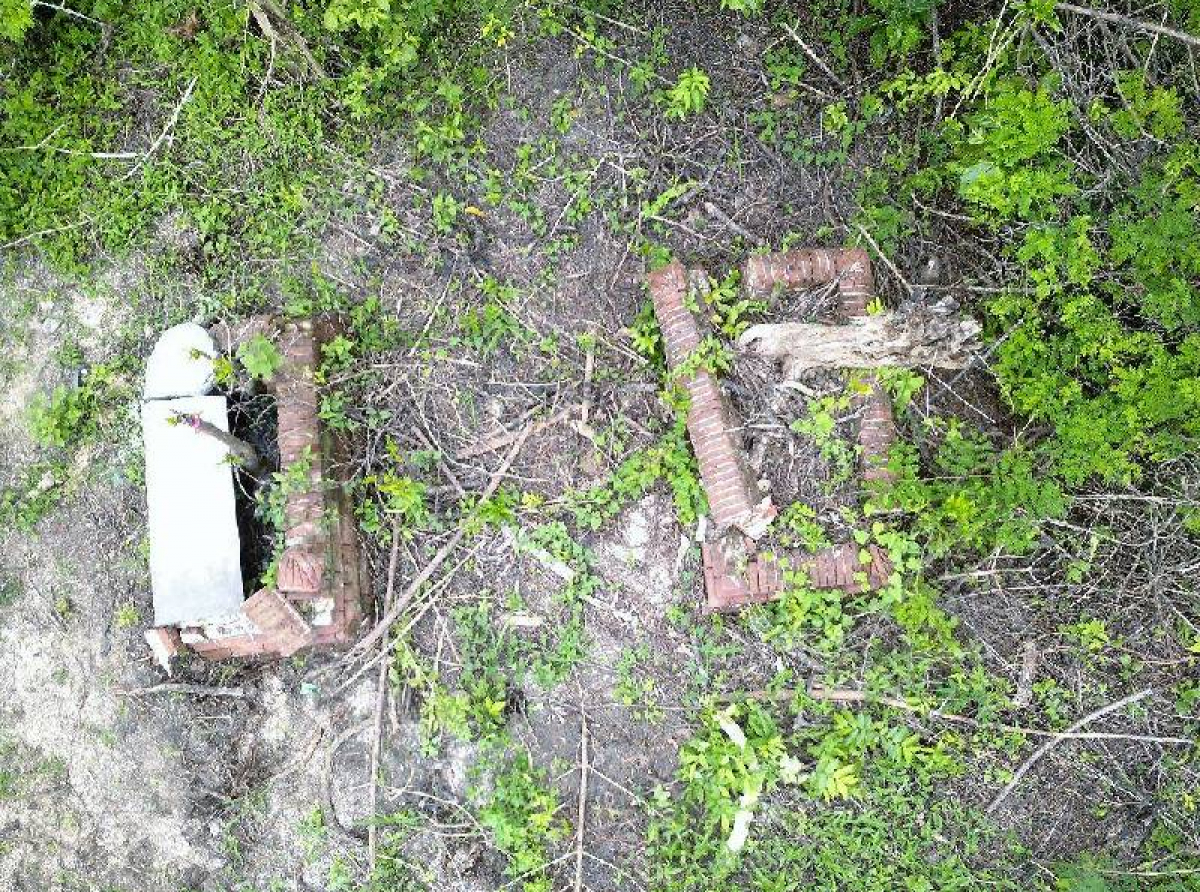 Articles:

Plantation Bellevue
On Thursday 19 May 2022, a team from the Built Heritage Suriname Foundation (SGES) paid a working visit to the Coronie district to inspect and document some historic graves on the Bellevue plantation. The reason for this is the message from Mrs. M. Vroom, that some old graves on the plantation would have been damaged as a result of rehabilitation work on the East-West connection. The SGES team consisted of Rachel Deekman, Jennifer Scheuerman and Stephen Fokké.
On the site are two brick tombs without tombstones from the nineteenth century and a loose limestone tombstone from 1823 by Pieter Rompelman. According to Mrs. Vroom graves of her Scottish ancestor Alexander MacDonald senior (died 14 November 1870) and Alexander MacDonald junior (died 1872). Alexander sr. owned the Bellevue plantation from 1854 to 1870 and junior from 1870 to 1872. Originally there was a fence around the graves.
In view of the dates of death, Rompelman's tombstone is older than that of the MacDonalds. His tomb text reads translated as follows: HERE LIES / THE MORTAL / REMAINS / OF / PIETER ROMPELMAN / BORN / 3 JULY / Aᴼ 1786 / DIED / 27 JANUARY / Aᴼ1823 / HIS SAD / MOTHER HAS / RISEN / FROM MOTHERLYKE / LOVE THIS HUMBLE / MEMORIAL / M,H,R [M.H.R. stands for M.H. Rompelman].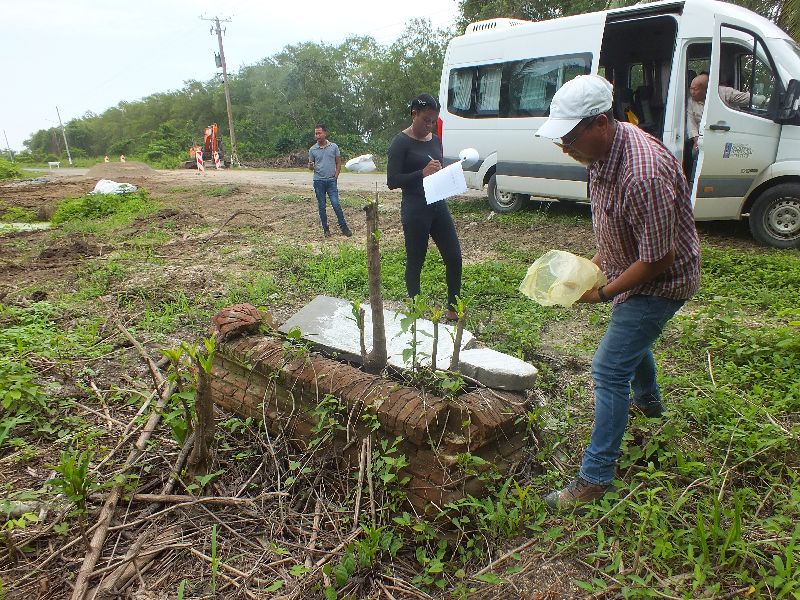 The survey team of the Built Heritage Suriname Foundation (SGES) documenting, coll. SGES 19 May 2022
According to information from Mrs. Vroom, the tombstone of Pieter Rompelman (d. 1823) originally lay crosswise between the two brick graves. This is an indication that the tombstone must have been elsewhere and that unknown persons placed it between the two graves in an inverted position. The tombstone was moved again some years ago and has been temporarily placed on one of the brick funerary monuments.
Condition monuments
The condition of the funerary monuments is poor, with root damage in particular. Due to the lack of tombstones, trees have started to grow in the tombs over the years, whereby the roots have damaged the masonry. In particular, the second grave monument from which a large tree grew, suffered a lot of damage because the monument was pushed apart, as it were. Noni trees (Morinda citrifolia) grow from the first grave. Both graves show some subsidence. However, there are also fresh signs of damage, which are believed to have been caused by an excavator as part of rehabilitation work on the Oost-Westverbinding.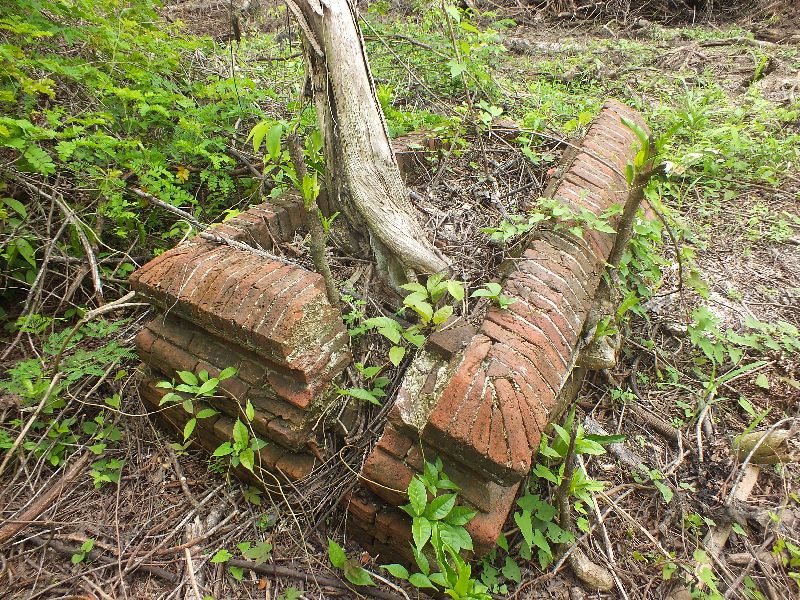 Impression of the condition of the brick graves, coll. SGES 19 May 2022
As for Rompelman's tombstone, it has long ceased to be a whole, but has been broken into two parts. The grave text has been deepened or cut into the stone and is in good condition, apart from the fracture. The stone has suffered some damage due to the rehabilitation work, so that the full surname is no longer legible.
[Download PDF with extensive photo report] (Dutch only)
Reference: SC-SUR-068
---