Vypin - Johan Hendrik Medeler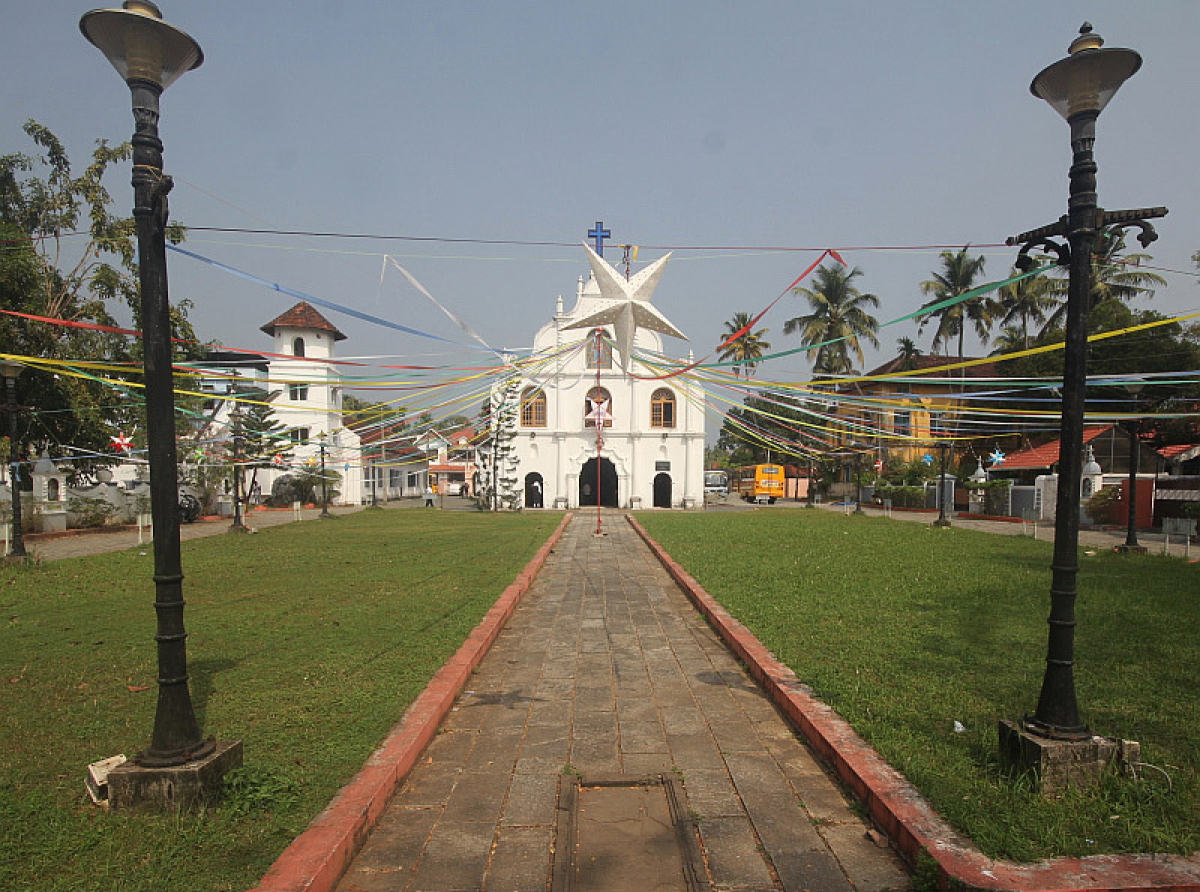 Articles:

Church of Our Lady of Hope, Vypin
Trumpeter in the service of the VOC
In the winter of 1739, Johan Hendrik Medeler from Braakel[i] boarded the ship Gaasperdam of the Chamber of Amsterdam to sail to Ceylon as a trumpeter. Sub-merchant Jacob Balde immediately had his hands full with sick crew members who wanted to make their wills, but also with statements from various passengers about the behaviour of the quartermaster Jacob Jansz Kerkemijer who threatened, deceived, defrauded and mistreated the ordinary people "with great inflation on their character" in all kinds of ways. The ship's council had to be involved while the ship was in disarray at a boatyard in Portugal[ii]. Kerkemeijer was condemned to [iii] be beaten with a rope and demoted to sailor for nine guilders a month. The belongings of all the deceased crew members were immediately inventoried and sold at the mast. After the death of the second master on 7 May 1739, Johan Medeler bought his 8 "medicineese" books for three guilders. [iv] A curious purchase for a trumpeter.
After almost eleven months, the Gaasperdam arrived in Ceylon. Here began a completely different life for Johan. The decision to stay in Asia was partly determined by his marriage in Colombo on 4 November 1741 to the mestizo Geertrui Augustijn from Batavia. Together with her, he had at least 5 children who also became adults. The eldest was their son Henry Anthony who was born in Colombo and baptized on 2 December 1742. Four daughters followed: Geertruijda Wilhelmina, baptized in Colombo on 30 August 1744, Susanna Petronella Charlotte, born 28 July 1746, Adriana Geertruida, baptized in Colombo on 1 August 1751 and Anna Catharina Elizabeth, baptized in Colombo on 20 April 1755. Along with the growth of his family, his position changed, which also involved regular relocations. In 1747 he was promoted from sergeant in Colombo to ensign in Galle. From 1754 to 1758 he was a lieutenant in Jaffnapatnam, from 1758 to 1762 again in Colombo where he was promoted to captain-lieutenant in 1760 and to captain in 1761 for a salary of 89 guilders per month.
Visiting the court
Sometimes we get a glimpse into Medeler's work, such as in 1759 when he was sent to Kilkare (a small VOC post north of Tutucorin 1758-1795, now Kilakkaria) with J.R. Francois to negotiate with the local king about the excessive toll. Francois and Medeler had arrived on 21 June 1759 at Kilkare where they were picked up on 24 June by the courtier Nelle Moettoe Poelle with warriors, partly armed with rifles, partly with pikes. "We requested that the counsellors who had been involved in the conclusion of the agreement be warned that they wanted to negotiate and expected no opposition given the welcome. After handing over the gifts, etc., his Excellency informed us that he himself could not be present at the meeting because of the preparations for his nephew's wedding. But in spite of all the good omens and good will, they immediately began to indicate at the first point of discussion that their lord would never accede to our terms because they are bound to old habits, being a heavy toll." [v] After much urging, they were briefly received by the king. However, the consultations were not successful. The king more or less sent them away with the message that according to him they had no right of negotiation and could only bring him gifts. After a lot of deliberation, there was nothing left for both men to do but return home. The agreement only came about with the high toll charge and the fact that the VOC thought it could introduce a lower toll so that the end result would be the same, was no interest to the king. In the end, Medeler and Francois took the deal and the agreement was signed. They were said goodbye with a lot of homage, with thousands of people standing along the road watching them in a paladin on top of the back of an elephant and in the company of the honorary escort, just as when they arrived.
On an expedition against the king of Kandy
In 1762 Medeler was appointed commander of the troops at Galle. In the meantime he was on friendly terms with the Governor of Ceylon, Lubbert Jan van Eck, who called him his friend in his letters. It was uneasy in Ceylon. For the king of Kandy had had more than enough of the domination of the Dutch. Although the king was paid well every year in the form of extravagant gifts for the presence of the VOC in his coastal areas, such as the famous "Canon of Kandy", this was seen by him as court culture that emphasized the subservience of the Dutch, while the VOC saw this as compensation for the cinnamon. There was resentment on both sides. The VOC had to ask permission from the king every year for the peeling of the cinnamon trees and the transit of elephants, just as the king of Kandy repeatedly had to ask permission from the VOC for the use of the salt pans along the coast. The VOC wanted to be able to use the coastal strip in its entirety, while the king wanted to build new ports in the area that was in the hands of the VOC. In addition, the VOC was not happy with the supposed growing friendship between the king and the English and the attempt of the Buddhist king to get a better grip on his population by spreading his faith. A collision could not be avoided. Under these circumstances Medeler was appointed major in 1764 and his salary was increased to 150 guilders per month.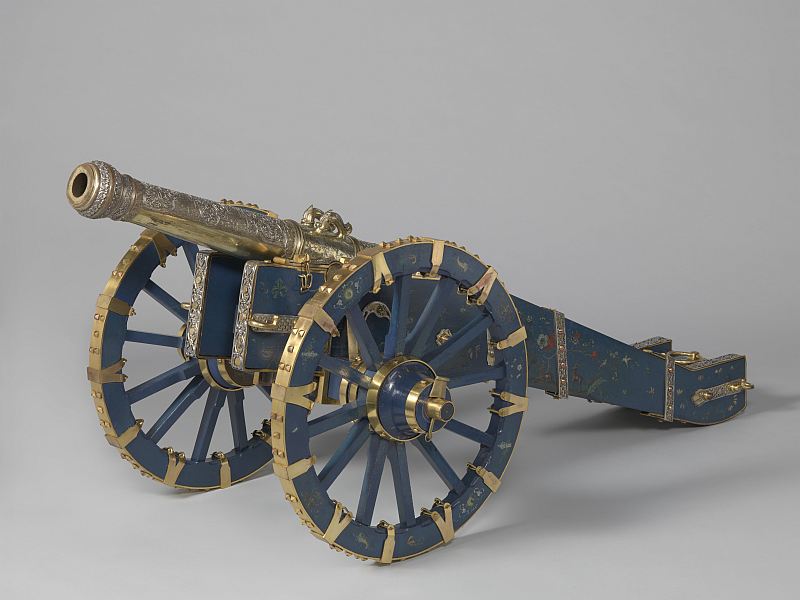 Salutes were fired with this cannon to welcome visitors to the king of Kandy.
On the barrel are the king's symbols: a sun, a crescent moon and the Sinhalese lion. Collection Rijksmuseum
On 9 November 1764 Medeler received instructions from governor Van Eck for the upcoming expedition against the king of Kandy. He was sent out with an army of 1,300 men and 2 guns. Van Eck told him: "I do not need to explain to you the upkeep of good discipline, you noble who, in that piece as all the others share the military service, gave me very special pleasure and gained there through my complete confidence, your good friend L.J. van Eck. 9-11-1764[vi]. " During this expedition, the city of Kandy was captured and the palace partially burned down. Part of the army withdrew, leaving behind an occupying force in the city led by Majors Frankena and Duflo. The king did not simply give up the battle for his city and palace and tried to regain his possessions. In the meantime, the occupying army had been severely weakened by stagnation in the supply of food. Famine was imminent. On 16 July 1765, Medeler was again ordered not only to fight the king, but also to transfer a large supply of food to the starving army in Kandy, but now with an army of 900 Europeans, a French corps of 48 grenadiers and two companies of locals. From his diary which he handed in on 31 December, it appears that it was a gruelling journey because of the abundant rainfall that had made a trip through the already inaccessible mountainous area virtually impossible. Sometimes the army did not get further than 2 miles in a day. The rain spoiled the food and of the carrier animals they had with 68 were killed in one night, sunk in the mud and were lost in the woods. Rivers overflowed their banks, allowing crocodiles to enter the land. On the narrow mountain paths the chance of slipping and making a fatal fall was a great danger. In addition to all this, there were also battles, in which there were few casualties on the side of the VOC. When Medeler finally came within a short distance of Kandy, it turned out that all VOC troops had already withdrawn and his journey had been for nothing. As he wrote himself, "I stood so to say with a handful of people at the gate of Kandia, in the open field and in the worst and roughest of seasons, bereft of provisions and surrounded by the enemy, nothing I had to hope or wait for.." [vii] There was no choice but to accept the retreat. Diseases broke out. "People both black and white lay naked and in a coffin not even with a lid". Eventually, Medeler himself was also overcome by life-threatening fevers.
After the final conquest of the castle of the king of Kandy, the cannon, which once probably been part of one of the donations of the VOC, was confiscated and shipped by Lubbert Jan van Eck to Prince William V of Orange just before his death on 1 April 1765. Today it is exhibited in the Rijksarchief in Amsterdam and the discussion is ongoing whether it falls under looted art and should still be returned to Sri Lanka, which requests it.
The Medeler family
While Medeler was busy with his career, his family grew. He must have been approximately fifty years old when his active role on the battlefield came to an end. In 1767 he was appointed head of the Militia in Cochin. Again all belongings were packed and the family left for another place. His transfer was even published in the Dutch newspapers. When the family settled in Cochin, the household consisted of 34 people, namely a European man, a mestizo woman, three boys and three girls, two native men, twenty enslaved (of which 12 men and 8 women), two enslaved boys and two enslaved girls. Medeler's rising star had ensured him that his children could now find their marriage partners in the socially higher classes. But not his son Hendrick Anthony. Despite having joined the VOC at the age of 10, he did not choose a military career. He became an accountant and in 1776 resident at Porka and from 31 December 1779 resident at Calicoilan. He died childless on 28 October 1780 and was buried in the Dutch cemetery of Cochin. [viii] That marked the end of the brief Medeler dynasty in the male line in Asia.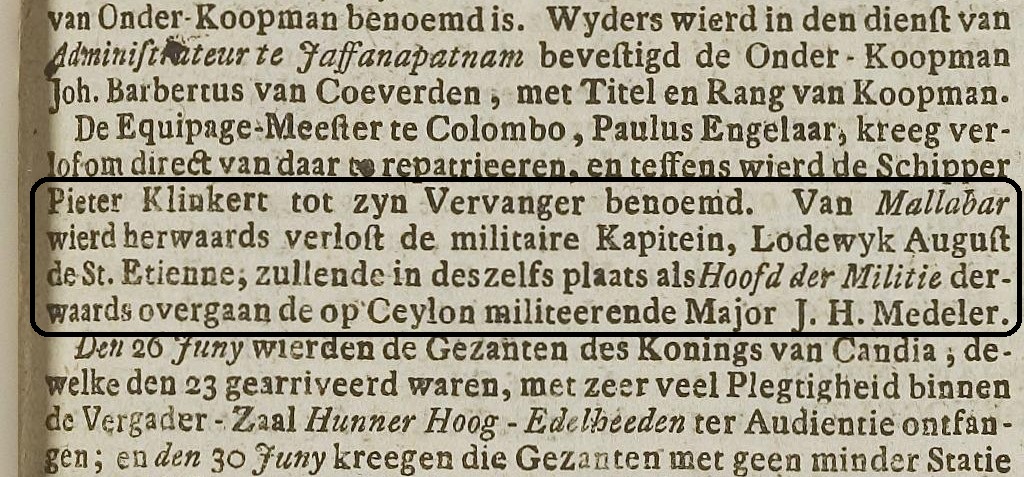 Transfer of Medeler in the Leydse Courant 02 05 1768 (Delpher)
Through the female line, life in Asia continued. Daughter Geertruijda Wilhelmina was baptized Reformed in 1744. She married for the first time in Colombo to Jacob Gosewijn, Baron von Märcken from Dusseldorp, a lieutenant who died on 12 August 1767. Geertruijda was pregnant at the time and gave birth to her son Friederich Willem Hendrik Gosewijn fatherless. He would receive his education in the Netherlands and returned to Ceylon in 1789 with the ship Triconemare. [ix] Geertruijda married for a second time to Frederik von den Büsch, major from Minden in present-day Germany. They were given permission for this marriage on 3 February 1778 and from this marriage two children were born. Geertruida in 1779 and Rudolphina in 1781. Frederick died 4 May 1785. His wife and children were still alive at the time.[x]
Susanna Petronella Charlotte, born 28 July 1746, died 3 October 1786 and was buried in Colombo in Pettah Cemetery. She married (1)7 July 1763[xi] Pieter Sluysken van Amsterdam, baptized 22 May 1740 as son of Gerhard Sluysken and Hinderina de Frementeau. He had sailed out as a sergeant in front of the Amsterdam chamber with the Giessenburg. He died on 13 September 1813 in Galle in his home on the Groeneweg. They had 5 children. The two sons Gerhard (1764) and Johan Josias (1782-1843) were educated in the Netherlands. In the archive of the [xii]Prize Papers in London you can find letters that they sent to their families during their stay, with the latest family news and their study results. Gerhard returned to Cochin but Johan Josias started a family in the Netherlands. Geertruida (1769) married Robertus van Leembruggen on 7 May 1790. Clara Josina (1776-1791) died young and her father was [xiii] heartbroken about this according to the text on her tombstone: "Met luister kon haar harte e(e)n yder streele(n). en in haar(s) vaders borst de diepste wonde heele(n)." In translation: "Her heart could touch anyone with sparkles and heal the deepest wounds in her father's chest." [xiv] Daughter Lucretia (15 April 1781) , married in Colombo on 13 March 1794 to Roeland Jacob Schorer, born in Triconomale 19 April 1773 and died in Colombo 1 January 1797. [xv] She married a second time on 16 June 1799 in Colombo to Jan Martin Lavalliere.
Adriana Geertruijda, born in Colombo 1 August 1751 married in Colombo in the Wolverdaal church on 21 June 1789 to Jan Kloprogge van Utrecht, chief master in the service of the VOC and probably the son of Lambertus and Maria Steevens. They had a son Jan baptized Roman Catholic in Utrecht (the Netherlands) on 30 October 1760 as Johannes Kloproggen. His brother Richardus Kloproggen who was baptized 6 March 1770 also found a job with the VOC. Nothing else is known about the couple, but they may live on in Jan Lodewijk Kloprogge, who as a 24-year-old in Batavia is mentioned in the population register of the Dutch East Indies in 1821.[xvi]
The youngest daughter Anna (1755) married Fredrik Christiaan van Mullertsz from Colding in Jutland in October 1778. He died in Galle on 21 May 1791, leaving her with five small children[xvii], Frederica (1780), the twins Wilhelmina and Julia (1783), Charlotta (1785), Jan Josias (1788) and Geertruida (1791). Charlotta married Adriaan Ebell in 1804. Geertruida married Charles von Driberg in 1810. They had a number of children and died, four hours apart, shortly before 4 November 1826 in Hambantota[xviii].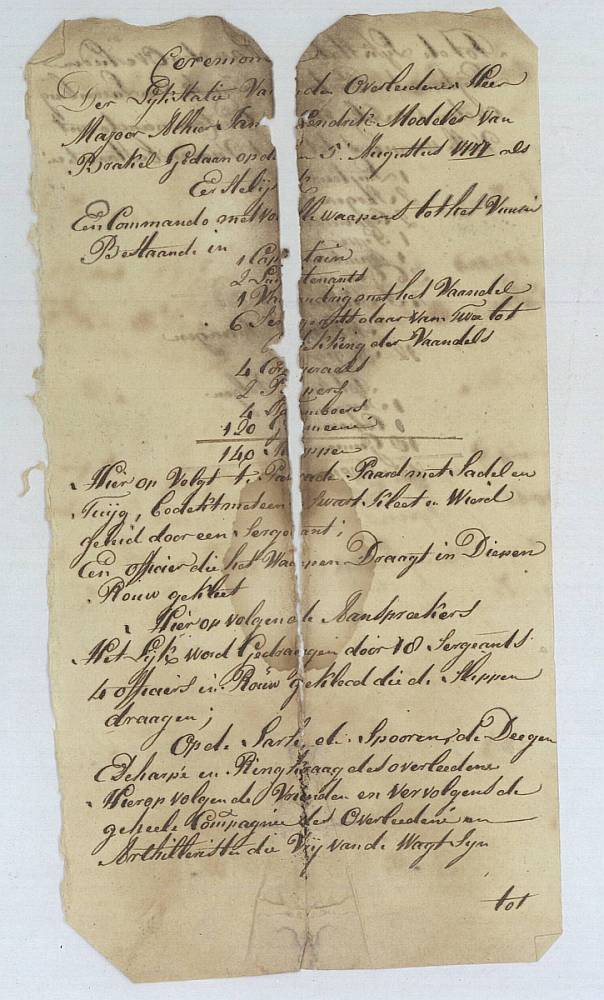 Corpse Statie of Medeler (NA 1.11.06.11 1059 0256)
The last years of Johan Medeler and his Geertruijda have probably been quiet. Medeler occasionally made travels to other posts on the Malabar coast. In 1774 Johan was sickly and a will was drawn up. He had earned nearly 20,000 guilders and had been in the service of the VOC in Asia for 38 years when he died in Cochin on 4 August 1777. He had indicated in his will that he wanted to be buried at Baipin, an island direct opposite of Fort Kochi. Hist tombstone is to be found in the Church of Our Lady of Hope, Vypin. Geertruijda Augustijnsz died between May and October 1780 at Cochin. Her final resting place in unknown.
The funeral procession
"In death, everyone is equal" is a well-known Dutch saying, but before the dead body was laid in the grave, it was once again possible to clarify the social position and social relationship. It brought, in the VOC territories, the whole household into an uproar because the rituals belonging to the rank and status of the deceased had to be complied with, often within 48 hours, according to one of the four categories that existed for this purpose: 'glorious', 'honest' (exquisite), 'stately' (solemn) and simple. It also described exactly what the funeral procession should look like, who should be invited and what private belongings of the deceased should be carried along. The black coffin cloth, without any adornments, had to be rented from the church or from the designated mourning goods lessor, which also rented the prescribed mourning hats and mourning cloaks. This was often a profession awarded to widows who could thus support themselves. A personal funeral pall could also be used but in that case a fee had to be given to the lessor.
For the funeral procession of Jan Hendrik Medeler on 5 August 1777, it was stipulated that there would be present: a command with full arms for firing shots consisting of a captain, two lieutenants, an ensign carrying the banner, six sergeants of whom a minimum of two and a maximum of all six should carry banners, four corporals, two pipers (horn players), four drummers and one hundred and twenty soldiers. This was followed by a parade of the horse with saddle and harness covered with a black robe, which was led by a sergeant and an officer bearing the Medeler coat of arms, both dressed in deep mourning. This was followed by the notifiers and the corpse carried by 18 sergeants and four officers – all dressed in mourning - carrying the slips (the four points of the funeral pall). His spurs, sword and ring collar (ornamental plate for protecting the neck) were also carried along. Following this were the "friends", a description for his adult male descendants and in their absence, a small male representation on behalf of his family or absent relatives followed by the deceased's entire company and the artillerymen who were not on guard duty. All in all, on this chilly and rainy day some two hundred men will have followed the coffin with circumferential movement, to lead the soul astray, to its final resting place on the small island of Vypin. Afterwards, the traditional mourning meal and the family's generous gift of memorial tokens, money or silver objects awaited them.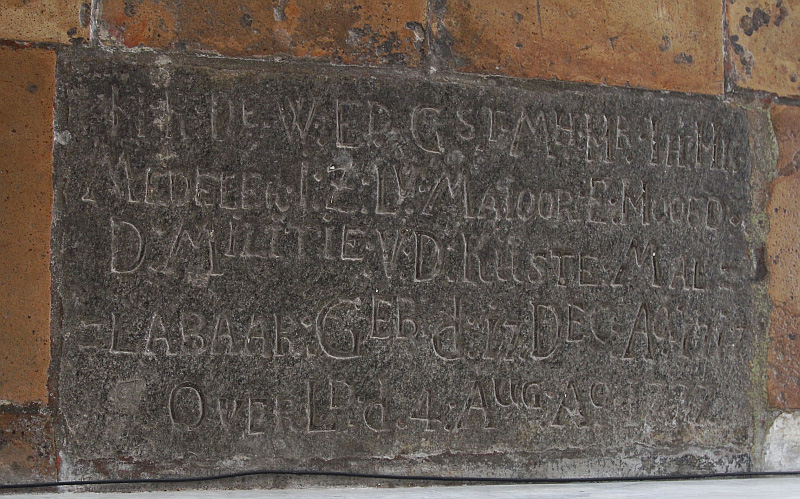 Tombstone of Johan Hendrik Medeler (photo Laju Paul, 2023)
The tombstone in the Church of Our Lady of Hope is hard to decipher and their are several interpretations of the abbreviations. Some of them say the stone is for Medeler's wife, Geertruijda. This, because of 'WEd', but they missed the punctuation mark between the 'W' and 'Ed', in which case 'weduwe' (widow) is read. This is incorrect.
The stone reads:
H.R.De.W.Ed.Gst.Mh.Hr.Ih.R.
Medeler. I.Z.Lv.Maioor.E.Hoofd
D.Militie.V.D.Kuste.Mal.
Labar. Geb.d.17.Dec.Ao 17??
Overld.d.4 Aug.Ao.1777
Hier Rust De Wel Edele Gestrenghe Manhafte Heer Johan Hendrik
Medeler. In zijn leven Marjoor en Hoofd
De Militie van de Kust Mal
Labaar. Geboren op 17 december Anno 17??
Overleden den 4 augustus Anno 1777

In translation:
Here rests the Honourable Brave Lord Johan Hendrik
Medele. In his life Major and Head
The militia of the Coast Ma
Labaar. Born on 17 December Year 17??
Die on 4 August Year 1777
Notes
[i] The question is which Braakel was meant by this. In Brakel in Gelderland (NL) this surname does not occur but there is also a Brakel in present-day Belgium and in Germany. Given his surname, it seems most likely that he came from Brackel in North Rhine-Westphalia, Germany
[ii] NA 1.04.02.6089 685
[iii] It meant being beaten with a piece of rope. Depending on the severity by 100 to 200 strokes. If you had a defensive function on board, you were not beaten with rope, but with a specially made wooden rifle.
[iv] NA 1.04.02.6089 720
[v] NA 1.04.02.2956 Pg. 1198-1221
[vi] NA 1.04.02.3114 2619-2621
[vii] NA 1.04.02.3141789
[viii] NA 1.11.06.11.1120 scan 38 and 40
[ix] Jacob Gosewijn Baron van Meercken/ Jacob Gosewijn van Marken/Maacken/von Märcken lieutenant soldier of Duseldorp, in service 1763-06-03 with the Giessenburg for soldier, without will leaving wife behind died 12-8-1767 NA 1.04.02.6426 0850. His child was thus born posthumously. Friederich Willem Hendrik Gosewijn van Marken Colombo 3-1-1768 Get. Georg Friederich Wilhelm Baron van Marken and Eleanor van Marken. Mentioned in the orphanage of 1784 with a capital of fl 872.00 NA 1.11.06.11_1222_004. Entered service of the VOC in 1789-02-28 from Texel on the ship Triconemare died 5-1-1795 Cochin.
[x] Frederick von den Büsch van Minden, lutheran Manhaften lord major and head of the Leckerland as soldier fl 9,00 1.04.02.6427 0746 and 0807 to Ceylon on the Cape improved to corporal, after Colombo and Batavia he came in 1769 in Souratte until December 1774 then on Cochin. 12-1779 Capiteijn Lieutenant Cochin since 1777 1.11.06.11.1113 0065.
[xi] https://geneagraphie.com/getperson.php?personID=I711650&tree=1
[xii] 1759 Colombo committeeman to the Arack trade; 1766 overseer at Galle, sub-merchant;1767 lieutenant-dessava Colombo, merchant outside employment; 1772 one of the founders of the lodge "De Opregtheid or "La Candeur" in Galle van Vrijmasonry[xii] 1779 administrator Jaffna; 1780 dismissed; 1781 negotieboekhouder sabandhaar and receiver of domains at Colombo; 1782 chief administrator; 1782 chief merchant; 1788 commander of the city of Galle and lands of Mature etc. ; 1792-1796[xii] director Surat ( he took over that post from Abraham Sluysken[xii]). Surrenders the governorate to the English in 1795.
[xiii] Robertus Henricus Leembruggen, born 22 September 1759, died 6 November 1819 Negapatnam, son of Henricus and Dina Cramer. He remarried and divorced Cheramsimy Eleazer. She died 21 May 1833 and was buried 2 May 1833 in Negapatnam. Source: Regionaal Archief Gorinchem, Notarieel Archief Boonzaijer 15-12-1838, courtesy of Barend Bode.
[xiv] Wapenheraut 1897, p. 184.
[xv] son of Johan Wilhelm Schorer and Juliana Cornelia Lebeck.
[xvi] NA 2.10.01, inv.nr. 3137
[xvii] Fredrik Christiaan van Mullertsz born 7.1.1753 in Colding in Jutland, Denmark, 1778 Ensign; 1778 1787 lieutenant commander at Cranganoor[xvii]. In March 1791 he was in sickly conditions in Galle.[xvii] He died 21 May 1791 in Galle
[xviii] Cotton page 404
Internet
Header: Church of Our Lady of Hope, Vypin (photo Laju Paul, 2023)
---